Special Programme with Keshava
Senior Teacher of Yoga & Meditation
Friday 1st & Saturday 2nd December @yogabromley
Friday 1st " The Meditation Experience "- A meditation evening introducing you to the science and practise of meditation – 7.15-8.45pm 
Saturday 2nd " Yoga Workshop – Experiencing the effects on the Cardiovascular & Circulatory Systems " – 11am-12.45pm 
Price: 
Meditation Workshop – Friday 1st – £12 – 7.15-8.45pm 
Yoga  Workshop –  Saturday 2nd £15 – 11am-12.45pm 
Both Workshps: £25 
Book here: https://www.yogabromley.co.uk/workshops 
Yoga Bromley 
Ripley Arts Centre
24 Sundridge Avenue
Bromley
BR1 2PX 
Tel: 07765 100436 
Email: sivanandabromley@yahoo.co.uk 
---
Ayurveda Programme with Keshava
Saturday 2nd December 4-9pm @northlondonyogacentre
Keshava will teach a yoga class and give a talk on the Science of Ayurveda in daily life.
Find out your unique balance of the doshas and how this can help to make positive changes in your lifestyle. 
4-6pm Yoga Class (All Levels)  £20 Find out how your Yoga practice can help to balance the doshas 
6-7pm Ayurvedic Meal £5  Delicious balanced light vegetarian meal 
7-9pm Ayurveda Talk & Practice £20  Gain some knowledge on Ayurveda and practices to help make positive changes to your lifestyle.   
(You may book all or any part of the Programme) 
Book here: https://clients.mindbodyonline.com/classic/mainclass?studioid=308908&tg=&vt=&lvl=&stype=-7&view=week&trn=0&page=&catid=&prodid=&date=11%2f27%2f2017&classid=0&prodGroupId=&sSU=&optForwardingLink=&qParam=&justloggedin=&nLgIn=&pMode=0&loc=1 
Northlondon Yoga Space Studio: First floor (above Coco), 114 Cockfosters Rd, Barnet EN4 0DP 
Phone:  07976781357 
Email: info@northlondonyogacentre.com 
Website: www.northlondonyogacentre.com 
---
'Advance your practice with a meditative focus' a half day workshop with Keshava Peter Weitgasser
Sunday 3rd December 1:00 – 5:00 p.m. @lightogaspace
Learn how focusing the mind can deepen and expand your yoga practice' 
1:00 – 3:00 p.m.:  "Dynamic intermediate Yoga class" we will thoroughly explore some of the 85 Sivananda Yoga asana variations plus the 12 basic postures 
3:15 – 4:00 p.m "Meditation workshop" learn techniques to calm your mind and increase concentration in daily life. 
Afterwood homemade vegan festive snacks  
Keshava will also be available for one-to-one individual talks on your Yoga practice  
Book here: http://www.lightyogaspace.co.uk/buy-classes/dynamic-sivananda-yoga-and-meditation-workshop-with-keshava-peter-weitgasser 
The Light Yoga SpaceStudio B, 100 De Beauvoir Road, London, N1 4EN 
Phone: 07956 208 666  
Email:lightyogaspace@gmail.com  
---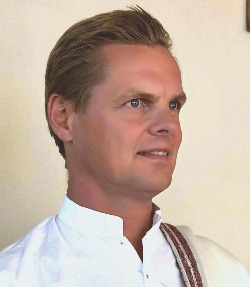 Keshava Peter Weitgasser is a former Yoga Monk (Swami Keshavananda) and Interior Architect. He has been a full-time teacher of Yoga since the year 2000. For more than 16 years he worked in the Sivananda Yoga Vedanta Centers of Europe, and assisted thousands of students in their Yoga teacher training courses and in Yoga retreats all over the world. He is a certified Sivananda Yoga Teacher and registered with Yoga Alliance (RYT). The teacher Registry is a listing of teachers worldwide who meet Yoga Alliance's Requirements for teaching experience and have completed their training at a Registered Yoga School. His teaching style is naturally, refreshing and dynamic. Peter`s extensive experience as a Yoga teacher is most appreciated during classes, when he provides precise, individual instructions and corrections on how Asanas are to be performed. His intuition and sensitivity to individual needs and differences restults in a very supportive and enjoyable learning environment, and makes every Yoga class a special occasion. He is an expert in Kirtan and Mantra singing and plays several instruments, like Harmonium, Tabla and Cymbal.